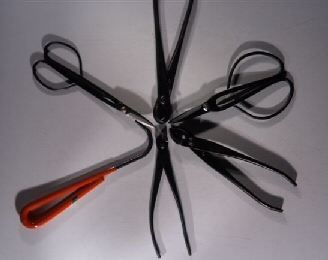 Category: Home/Family/Garden

Product: Bonsai Tools - Entire Set
Set Includes 6 Tools

Price: View !!!

Description: Set Includes 6 ToolsA. - Satsuki Shears #1068.Made in China. Long narrow body which is great for trimming buds and reaching deep with minimum disturbance to the surrounding foliage. It's finger rings are also well suited for smaller hands. 3/4" blades, 7" overall. $14.95 each. Buy separately. B. - Concave Branch Cutter #1070. (Beginner) This razor sharp tool is designed for cutting branches flush to the trunk. The resulting wound can then heal over quickly with very little scarring. Will keep a sharp edge indefinitely when properly used and cared for. The Concave Cutter is the single most important tool for bonsai use and for which there is no substitute. The 8" version is considered the basic size. 8" overall. Similar in appearance to above. Made in China. $23.95 each. Buy separately. C. - Bonsai Wire Cutters #1071. Made in China. These wire cutters are designed specifically for removing bonsai wire. Although enthusiasts new to bonsai sometimes substitute standard wire cutters, these are designed with a rounded head to prevent damage to the trunk and branches when removing wires. The jaws of the cutters cut the wire symmetrically and cleanly. Highly recommended for bonsai enthusiast. 7-3/4" overall. $19.95 each. Buy separately. D. - Shears #1073. (Beginner) Made in China. Similar in appearance to above $19.95 each. Buy separately. E. - Spherical Knob Cutter #1445. Made in China. Designed to remove trunk knobs and roots. The head is shaped like a ball, hence the name "spherical." It produces a hollow, circular cut that heals quickly with a minimum of scarring. 7" long. $16.95. Buy separately. F. - Single Point Root Rake #1075 Used to separate small and medium sized capillary roots during transplanting and repotting. Has a single steel prong. Simple, yet a necessary tool for bonsai enthusiasts. Made in Japan. 8" overall. $16.95 each. Buy separately.